Endowment
"The true meaning of life is to plant trees, under whose shade you do not expect to sit."
– Nelson Henderson
---
The UUCV Endowment Fund (Fund) has two aims. The primary aim is to help provide financial security for the church of the future. The second aim is to finance the cost of extraordinary projects for the benefit of the congregation.
New gifts and bequests to the fund, as well as market appreciation and earnings, allow our Church community to secure a legacy for its future. Up to 5% of the fund's balance is awarded yearly through an established grant process. The remainder is left untouched to grow the Fund and cushion the Church's finances in extraordinary circumstances including adverse economic times. Endowment grant applications are accepted from February through April each year.
For more information, scroll down this page, or click on any of the topics listed below to jump ahead. If you have other questions please contact Trustee, Ken Nitta or one of the other Trustees. All of the UUCV Endowment Fund Trustees are listed in the front of the church directory.
How To Give
Direct Gift—You can contribute cash, checks, or other financial assets. Please direct checks to the UUCV Endowment Fund.
Estate Plan Gift: Legacy Society—You can designate the Endowment Fund to receive funds or assets through your will or estate plan. Another way to make a gift is to specify the Endowment Fund as the beneficiary of an IRA account or life insurance policy. Every pledged bequest is honored with an engraved copper leaf on the Endowment Legacy tree in our church foyer. When the bequest is realized the copper leaf is replaced with an engraved silver leaf.
Memorial Gifts—Gifts in memory of loved ones may be given at any time. Also, upon an individual's death, friends and family may be invited to give to the UUCV Endowment Fund in lieu of flowers or other remembrances.
Tax Benefits
Any gift to the UUCV Endowment Fund provides an income tax benefit, and/or estate tax benefit. Certain gifts will provide an immediate or deferred income tax benefit, while others may also reduce a taxable estate. Because these rules are complex, you should consult your tax advisor for details.
Designated gifts
When you make a gift to the Fund, you have three options for directing how the earnings from that gift are used.
You may designate that they be used to benefit specific aspects of our congregational life: Arts, Music, and Humanities; Religious Education; Facilities and Grounds; and Social Action.
You may direct them to be added to the Endowment general fund.
You may specify that the earnings be used as the UUCV Board of Trustees may direct.
Click here for the form to use for specifying how you would like your portion of Fund earnings to be directed.
The first such grant was awarded to the music committee in 2006 to help produce a music CD. Next came a substantial remodel to the RE building. Since then, grants have been used for new, lighter folding tables for the library, to enhance the sound system in the sanctuary, and to build two small buildings, one for the grounds-keeping equipment and another for our ongoing Beyond Curbside recycling project.
---
Fund History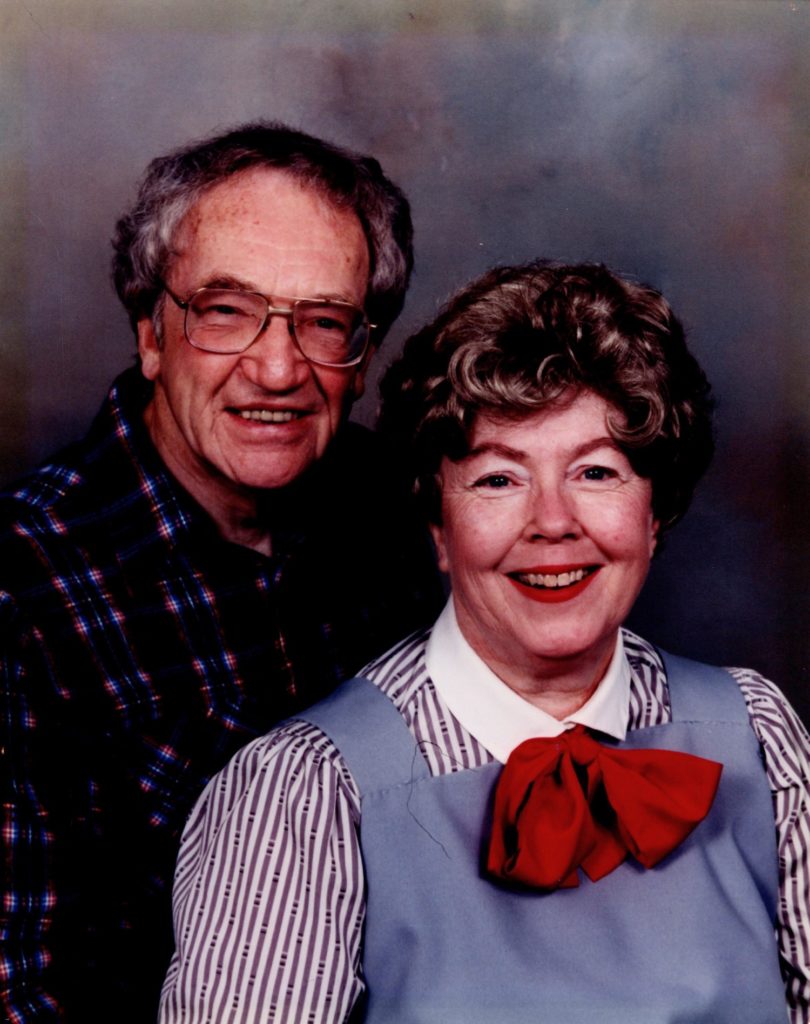 Founding donors of the Endowment Fund John and Nancy Bonner
The Unitarian Universalist Church of Vancouver Endowment Fund was started in December 2000 with a generous $10,000 donation from John and Nancy Bonner. In 2005, a $50,000 challenge gift given by the late Frank Steffes was matched by members of the congregation to significantly increase the Fund balance. In 2015, a $30,000 challenge gift given by Vern Swaim also was matched. Because of the generosity and vision of these devoted people, generations of our members are still benefiting.
Donors to the UUCV Endowment Fund who contribute a cumulative amount of $1000 or more are members of the Bonner-Steffes Circle and their names will be added to a plaque in the foyer, commemorating their generosity.
Since 2013, our Fund has been continuously invested in professionally managed accounts that are fully aligned with Church and the UUA socially responsible investing principles. The Trustees principally use the Unitarian Universalist Common Endowment Fund for managing its investments.
Here is a list of past Endowment grants (listed by date and church committee):
11/06 MSUUF Music CD-Music Comm
11/07 RE Infrastructure Improvements (permanent gate, child enclosure play area) – RE Comm
11/07 Ordination Ceremony for Barbara Stevens – Board of Trustees
11/08 Peter Mayer Concert Advertising – Music Comm
11/11 Kitchen Krewe Training Video/equipment – Ministry Council
2/11 Listening Asst. Devices (6 additional) for Sanctuary – Audio Crew
11/12 Stationary/Paper Expenses – Hearts and Hands Comm
11/12 Intergenerational evening games – Adult Ed.
11/12 Charette grant site development – Board of Trustees
11/12 Portable folding tables on wheels for library – Ministry Council
11/12 UU Books for library (path to membership) – Membership Comm
5/13 Stationary/Paper Expenses – Hearts and Hands Comm.
5/13 Building Maintenance Sheds and Recycling – Facilities/Green Team
5/13 RE Whiteboard Purchase – RE Comm.
5/14 RE Roll up Blackout Shades – RE Comm.
8/13 Sanctuary Painting Work – Facilities/Aesthetics Comm
8/13 Leadership meeting scholarship – Board of Trustees
5/14 Sanctuary Bathroom Remodel – Facilities/Aesthetics
5/14 RE Wheelchair accessible paved walkway /Eastside parking lot – Facilities Comm
5/14 Sanctuary Audio System Upgrade – Audio Team
5/15 Scholarships to the Russell Lockwood Leadership School – RE Comm.
5/15 Lightweight dining tables for the Sanctuary – Ministry Council
5/15 Upgrades to two entryways to the RE building for safety and city code compliance – Facilities
5/15 Scholarships to the UUA General Assembly in Portland for YRUU students – RE Comm. 5/15 Handicapped upgrades to bathrooms in the RE building – Facilities
5/15 Dry erase whiteboard on wheels for general church use – Ministry Council
5/17 Wireless microphones – Audio Team
5/17 New RE tables and replacement chairs – RE
5/17 New stove for kitchen – Facilities
5/18 AED (defibrillator) and training-Hearts and Hands
5/18 2 Smart TVs for use in RE classrooms-RE
5/18 Racism education-Social Action
5/18 Carpet replacement in RE building-Facilities
5/18 Refinish hardwood floors in main Sanctuary-Facilities
5/18 Feasibility study for RE patio conversion to interior space-Facilities
5/18 Paint and supplies for building exterior-Facilities
5/18 Leadership training-Board of Trustees
5/18 Audio system and booth improvements-Audio Team
5/20 AED Recertification-Hearts and Hands/Health and Safety
5/20 Healthy Congregations Workshop-Leadership Discovery and Development
5/20 Technology consultant for improved systems backup/security/maintenance/website improvements-Board of Trustees
5/20 Sanctuary dais wheelchair ramp-Facilities
5/20 Rekey Sanctuary and RE-Facilities/Board
6/21 Carpet, paint in sanctuary building – Facilities and Grounds
7/21 RE building roof -Facilities and Grounds
8/21 A/V equipment – Music
10/21 Piano repair – Music
5/22 Supplemental salary for a ministerial intern – Minister/Internship Committee
5/22 UU ministerial supervision of intern – Minister/Internship Committee
5/22 AED/CPR training/retraining for 15 people – Board of Trustees
5/22 Replacement blinds for Religious Education Main and the Sanctuary – Facilities
5/22 Donation to Southwest Washington Equity Coalition to promote racial equity and a more equitable society – Social Action Committee
5/22 Books for a church common read about resolving conflict, equity and inclusion – Beloved Community
5/22 Our Whole Lives training for adult volunteers – Religious Education
5/22 Technologic improvements to the Sanctuary sound system for hybrid worship – Worship and Tech Teams
5/23 – Pay staff professional association dues and virtual attendance at GA – Personnel
5/23 – Healthy Habits book discussion group to promote healthy lifestyle changes in our church community
5/23 – New LGBTQ+ banner to welcome new members – Membership
5/23 – New Thermostats for RE building to increase energy efficiency – Facilities
5/23 – New church choir folders – Music
5/23 – CPR supplies – Safety
5/23 – Intercultural Development Inventory testing for the group and individuals to improve our intercultural competency – Beloved Community Working Group
Endowment Trustees and Their Work
The Endowment Trustees – five to seven in number – are elected by the congregation and serve three-year terms. They must be at least 18 years of age, and active in the life of the church. They may be elected to consecutive terms. Trustees are responsible for the Fund's accounting, for encouraging the congregation to grow the Fund, and administering the grant process. The Endowment Board meets nine to twelve times a year, as needed, and Trustees work on specific tasks and projects between meetings. Officers include the Chair, the Treasurer and the Secretary.
For Further Information
For further information or questions, UUCV members may contact our current chair, Ken Nitta or any other Endowment Trustee. endowment@uucvan.org
Our EIN is 23-7449266.
Endowment Fund Policy Statement