Music
Through music we enhance our lives and gain a deeper understanding of our own spirituality. The gift of music flows from the musicians as they perform; in turn they receive the gift of appreciative listening from the congregants. Opportunities abound for both performer and listener during worship services and at special entertainment events.
Please contact our Music Director to participate in worship services.
Contact our Music Committee for information about special events like variety shows and dances for all ages.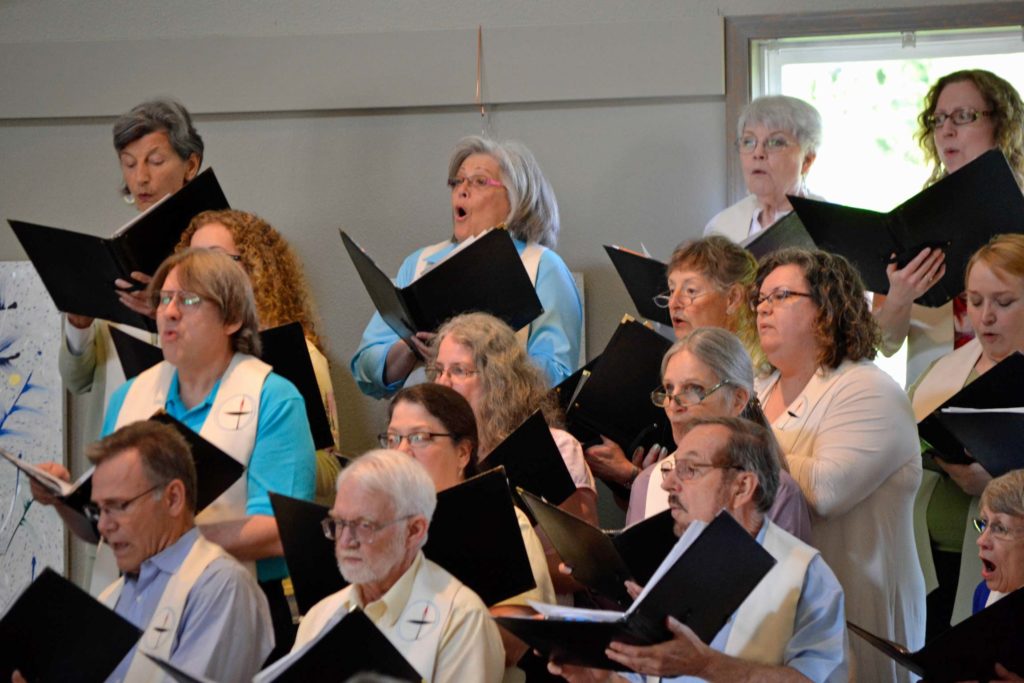 Choir
We usually sing two Sundays per month at both services leaving the second service after singing the Musical Inspiration.
The UUCV Choir is under the direction of the church's Music Director and is accompanied by a gifted pianist. Our choir director's mission of music-making is to serve the service through music, and to serve the singer through community. All are welcome.
The choir season begins with Homecoming in early September and ends with Community Sunday in June. You are welcome to join anytime. Our choir librarian will make sure you have what you need to catch up — enthusiasm and commitment to the schedule are all you need to bring!
Rehearsals:
Thursdays 7:00-9:00 p.m. in the Sanctuary
---
Hymnal Dedication
Honor your friends and family with a UUCV hymnal dedication. Each dedication will be placed on the inside front cover of one of our new hymnals. For only $30, you can recognize someone special in your life through this unique gift. Proceeds allow us to recoup the costs of recently purchased hymnals.
Complete our form and contact a member of the Music Committee to learn more.
UUCV Music Scholarship
Are you interested in participating in UUCV's music program but can't afford certain costs? Maybe you would you like to attend a UU music workshop, but don't have the funds for the entrance fee. Maybe you would you like to participate in a UUCV music performance, but need one-time assistance with childcare costs. Or maybe you have some other needs.
Perhaps we can help. UUCV's Music Committee has a Music Scholarship for UUCV members. If you'd like more info, see our Guidelines. Apply using this application form.
We anticipate having approximately $100 available annually.